OKEx Review Australia – Is This One of the Best Exchanges Available to Australians?(2022)
Welcome to my OKEx Review Australia. Today I'll be covering everything that you need to know about the popular cryptocurrency exchange OKEx. I'll explore its key features, whether it's safe, the pros and cons and help you determine whether it's the best crypto exchange for your needs.
OKEx Review Australia – What is OKEx
OKEx is a global cryptocurrency exchange that is available in over a hundred countries. Boasting one of the largest daily trading volumes, this comprehensive exchange is great for people looking to buy and trade cryptocurrencies. Additionally, the platform offers spot, margin, futures, options and perpetual swaps, as well as, NFT, DeFi, lending and mining services. As such, it is one of the most complete and diversified crypto platforms on the market and should suit most investors' needs.
OKEx Review Australia – Why Invest in Cryptocurrencies?
Cryptocurrencies are an immensely unique asset class. With deflationary, finite supplies, extremely high liquidity, unique use-cases, advanced technological applications and extreme volatility, crypto can be a useful asset class to invest in. With popular cryptocurrencies such as Bitcoin and Ethereum challenging the traditional financial system, these assets can also be a good hedge against traditional financial assets such as stocks and ETFs.
Similar to brokerage platforms with stocks, crypto exchanges such as OKEx allow you to purchase cryptocurrencies. A key difference is that, unlike the stock market, crypto exchanges never close. This in part allows for cryptocurrencies to fluctuate significantly in prices.
If utilised correctly, returns in the range of 100s and 1000s of % can be attained. Due to this volatility, some traditional investors prefer to allocate a small portion of their overall portfolio to these assets such as Bitcoin. Whereas more modern investors with high-risk tolerances may choose to allocate all of their portfolios to cryptocurrencies to maximise returns. Regardless of your crypto-allocation, OKEx allows users to gain their desired level of exposure.
OKEx Review Australia – Is OKEx Safe?
According to the OKEx Website: "Security is our top priority. OKEx provides a safe, reliable, and stable environment for crypto trading via web and mobile apps. We adopt global server load balancing, distributed clusters, other technologies for your protection".
This claim is represented in the default security settings offered by OKEx. Currently, users are required to enable Two-factor Authentication (2FA) to withdraw funds and access their accounts. They also provide additional basic security measures such as Google Authenticator integration, password protection, email verification, text-message verification and an Anti-Phishing Code.
As such, OKEx is a relatively safe platform that offers a wide variety of protective measures to ensure that your assets are safe. However, if you're still looking to increase security, you can store coins purchased on OKEx on a hardware wallet. A hardware wallet is a device, specifically designed to hold your private keys. It is another example of 'cold storage' meaning that it does not connect to the internet. You only have to plug it in to confirm transactions, the private keys never leave the device, making it the most secure way to store your crypto.
If you're interested in purchasing a hardware wallet, I recommend Ledger, as it is one of the most reputable wallets on the market and is interoperable with a wide variety of cryptocurrencies. If you would like to learn more about Ledger or purchase one, here is a link:
OKEx Review Australia – Fees
Fortunately, OKEx has relatively low fees, making it one of the cheapest platforms to trade on. The base standard for fees is a maker fee of 0.08% and a taker fee of 0.1%. Put simply, makers are traders who add liquidity to a market by placing a limit order. Limit orders unlike market orders are not filled instantly, yet give other traders the option of buying/selling to the maker at their pre-arranged price. Conversely, takers are traders who remove liquidity from the order book by executing market orders that consume the limit orders placed by makers.
While the fees are cheap for both parties, makers have a slightly lower fee to incentivise limit orders, as this increases liquidity to the exchange.
For more information on maker and taker fees, please refer to this guide:
It is also worth noting that fees can be reduced if a person holds a specific amount of OKB. OKB is the native utility token for OKEx and can be used to reduce fees, provide passive income from OKEx Earn and participate in jumpstart token sales on the exchange. Users with less than 500 OKB (Tier 1) pay the full tier 1 fees of 0.08% and 0.1%. Whereas each subsequent tier results in a 0.05% reduction in both maker and taker fees.
This can be seen in the below chart:
OKEx Review Australia – Pros
Comprehensive Ecosystem
As mentioned at the start of the review, OKEx has a comprehensive and diverse crypto ecosystem. Currently, OKEX offers spot trading, margin trading, an NFT marketplace, an earn feature with dozens of cryptocurrencies, loans, token sales and a rewards program. As such, new investors and experienced investors alike should be able to satisfy all of their crypto needs on this platform. Eliminating the need for multiple apps and exchanges can complicate crypto trading, particularly for beginners. Additionally, OKEx is available both as an app and via web browser, making it more accessible to users.
OKEx Earn
Perhaps one of the most useful features on the exchange is OKEx Earn. OKEx Earn combines decentralised finance (DeFi) protocols with staking and lending to offer users the ability to earn interest on their cryptocurrencies. Currently, annual percentage yields (APY) range from 0.11% to 29.48% depending on the asset and the lock-up period.
Regardless of whether you're a long term HODLer or a trader, you can use this feature to your advantage to earn additional passive income while executing your trading strategies.
High-Volume Trading
Another important but often overlooked aspect of exchanges is their trading volume. Exchanges can have all the features in the world, but without a high trading volume, it can be difficult to buy and sell cryptos. This can be disastrous for people looking to quickly buy assets during dips, as they may not have been updated to reflect the price decline. Alternatively, unpopular exchanges with low-volume trading can make selling out their positions difficult. Subsequently, this can impede the ability to purchase and sell cryptos at the best prices available. However, OKEx doesn't have this issue, due to its extensive global userbase.
Being one of the most popular exchanges in the world, OKEx offers some of the highest trading volumes. This enables users to buy cryptos at their most competitive prices. More importantly, however, it enables traders to sell their assets at a faster rate. This ability to sell quickly is imperative for maximising profit-taking. Particularly during a bull market, where many people may be looking to purchase/sell at the same time.
Rewards – Earn Free Bitcoin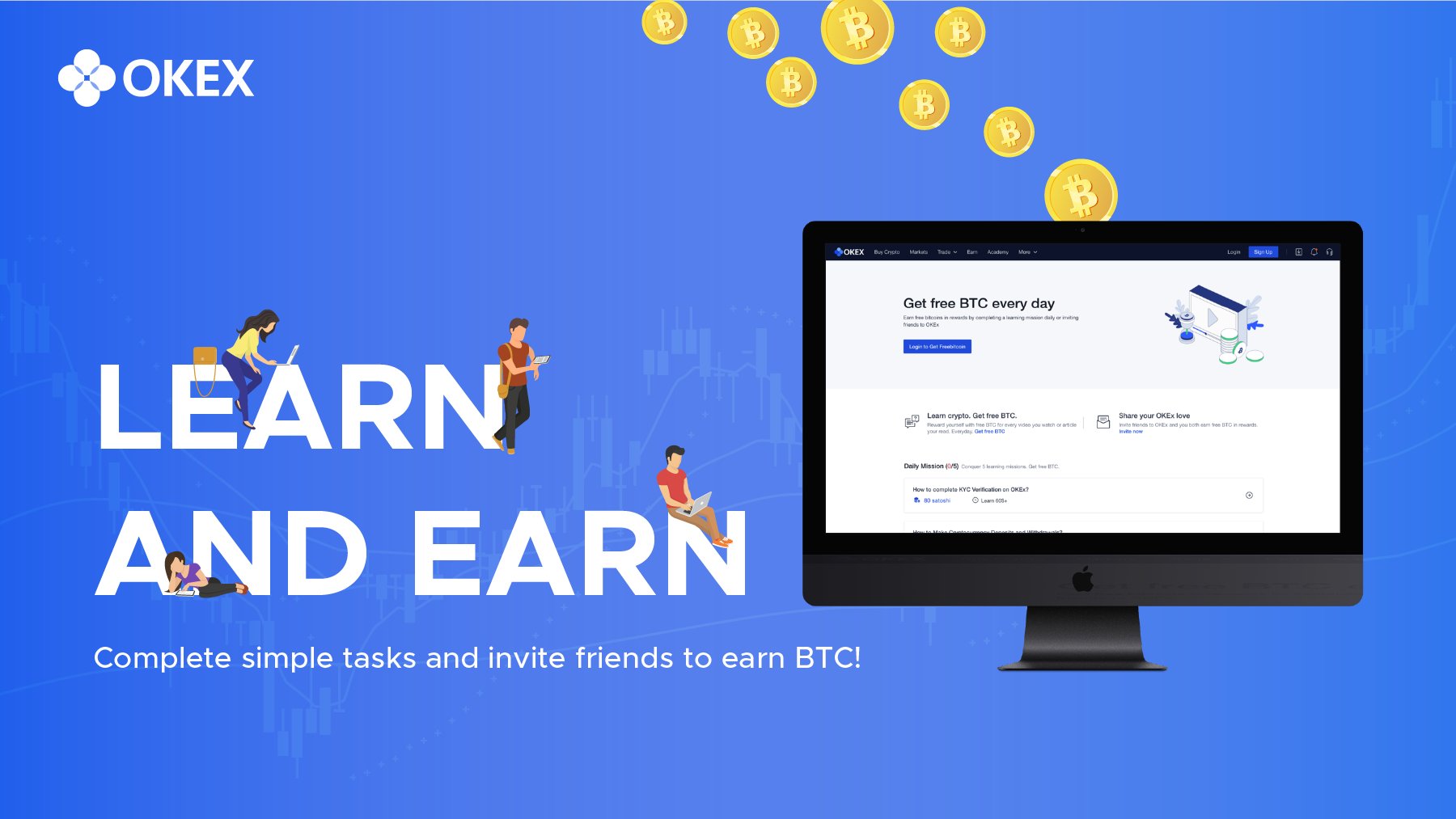 Rewards is another unique feature of OKEx that gives it an advantage over its competitors. When a new user signs up to OKEx, they are eligible to complete 3 starting tasks that provide financial incentives in the form of USDT rebates and BTC. By purchasing crypto, depositing fiat and trading $100 worth of fiat, new users can unlock $50 worth of trading vouchers and BTC.
Additionally, users can earn free BTC on the app by completing simple tasks such as reaching articles published by OKEx. While these rewards are low, it is still a useful way of earning free BTC while learning more about blockchain technology and cryptocurrencies as a whole.
OKEx Review Australia – Cons
Could Be Considered Complex for Beginners
Due to OKEx being a comprehensive platform, it offers a wide range of services that new users may be unfamiliar with. While this isn't necessarily an impediment or barrier, newer members may find the many services overwhelming at first. As such, more beginner-friendly/tailored platforms could be better suited to users completely new to the crypto space.
However, OKEx offers a range of guides that explain the features offered by the platform. These guides also provide verified users with free satoshis (BTC units), incentivising people to learn more about the unique features offered by OKEx. As such, beginners with patience and/or a willingness to read guides should be able to overcome the potentially overwhelming range of features offered by the platform.
Mixed Customer Reviews
While I haven't experienced any issues with OKEx, there are mixed reviews from a range of sites with lots of 1- and 5-star reviews. As such, it is clear that some users love the platform whereas others have had an unpleasant time on it. Subsequently, it may be worth reading additional reviews to gain a more comprehensive overview of customer experiences. Although, as previously stated, I haven't run into any issues while using the platform and enjoy it for the previously mentioned pros.
OKEx Review Australia – Pros and Cons Summary
| | |
| --- | --- |
| Pros | Cons |
| Comprehensive Ecosystem | May Be Complex for Beginners |
| OKEx Earn | Mixed Customer Reviews |
| High-Volume Trading | |
| Rewards – Earn Free Bitcoin | |
OKEx Review Australia – The Final Verdict
OKEx is a comprehensive cryptocurrency platform that offers a range of useful and unique features. Such features include OKEx Earn and Rewards, as well as more common features such as crypto-backed loans and margin and spot trading. It provides some of the lowest trading fees among mainstream exchanges, 24/7 customer support and is a secure platform with no records of severe hacks. As such, it is likely suited to a wide majority of investors, including novices and advanced traders.

However, those who are completely unfamiliar with crypto, they may find the exchange slightly overwhelming. If you are worried about this, then Crypto.com and Swyftx may be better suited to you. There are also some mixed reviews from other sites, indicating that some users are displeased with the platform. As such, it is encouraged that you do your research before signing up with the platform.
With that being said, I enjoy the platform and recommend it for people looking to trade large-cap cryptocurrencies and earn passive income in the process. The rewards feature is also a great way to incentivise mass adoption while helping new investors accumulate more BTC.
By signing up with the above link you are eligible to earn the following prizes after completing the requirements within 30 days:
Alternatively, you can input the following code on the sign-up screen:
9044820
Additional Reading:
If you would like to learn more about cryptocurrencies and other exchanges, check out these additional reviews: